Forbes 2017 world's billionaires list has been released which briefly had Amazon CEO as the richest man with a fortune of over $90 billion, overtaking Bill Gates.
However, Africa's richest woman, Folorunsho Alakija, who is the founder and Executive Chairman of Famfa Oil Limited, had her net worth unchanged at $1.6bn.
The new king, Amazon CEO, who started selling books from his garage 22 years ago, had a net worth of over $89 billion as of the close of markets Wednesday, while Microsoft co-founder Bill Gates had a net worth of just over $90 billion.
But on Thursday, Amazon's stock slipped, in response to the company's second-quarter earnings miss, and Bezos lost his top spot. However, the Amazon CEO remains fantastically wealthy, of course, and continues to marshal a business that is remaking the world with its operational prowess.
Amazon isn't Jeff Bezos' only business.The founder of the online retail giant is also behind Blue Origin, a space-travel company. Bezos has actually been using $1 billion worth of Amazon stock each year to fund the effort.
The other three men who make up the five richest in the world are investor Warren Buffet, Zara founder Amancio Ortega and Facebook founder Mark Zuckerberg.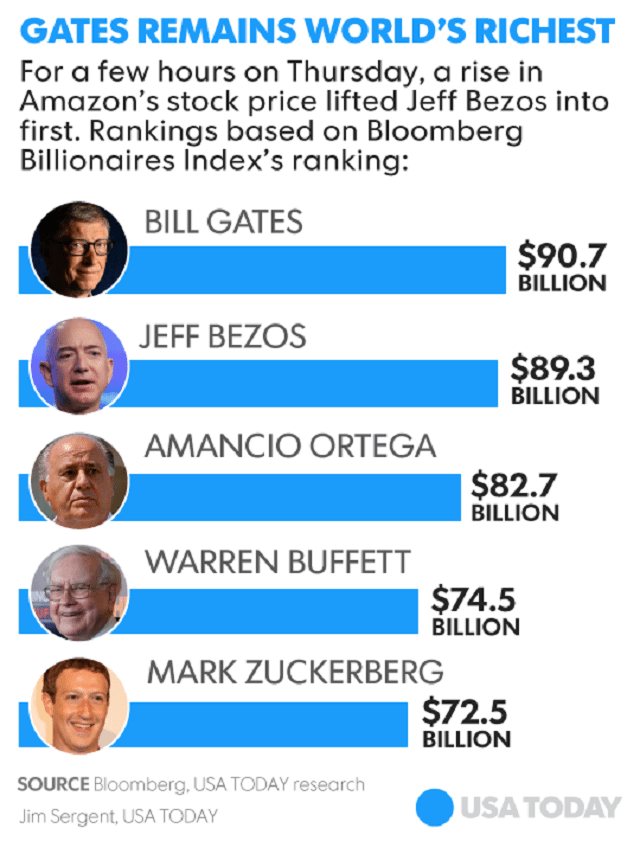 Bill Gates has topped Forbes list of the world's billionaires for 18 out of the past 23 years. However, his recent dethroning isn't the first time that someone else has taken the top spot. Other billionaires have overtaken him before, but he has always come back ahead.
Much of Zuckerberg's net worth is tied up in Facebook shares, meaning it rises and falls with the company's stock price. Facebook's shares jumped Thursday after a strong earnings report. Zuckerberg's net worth has increased by $24 billion since the start of the year.
The World's Billionaires 2017 list celebrates the 30th anniversary of Forbes' list. It got its start in 1987 and there have only been seven different billionaires that have taken the top spot on the list.